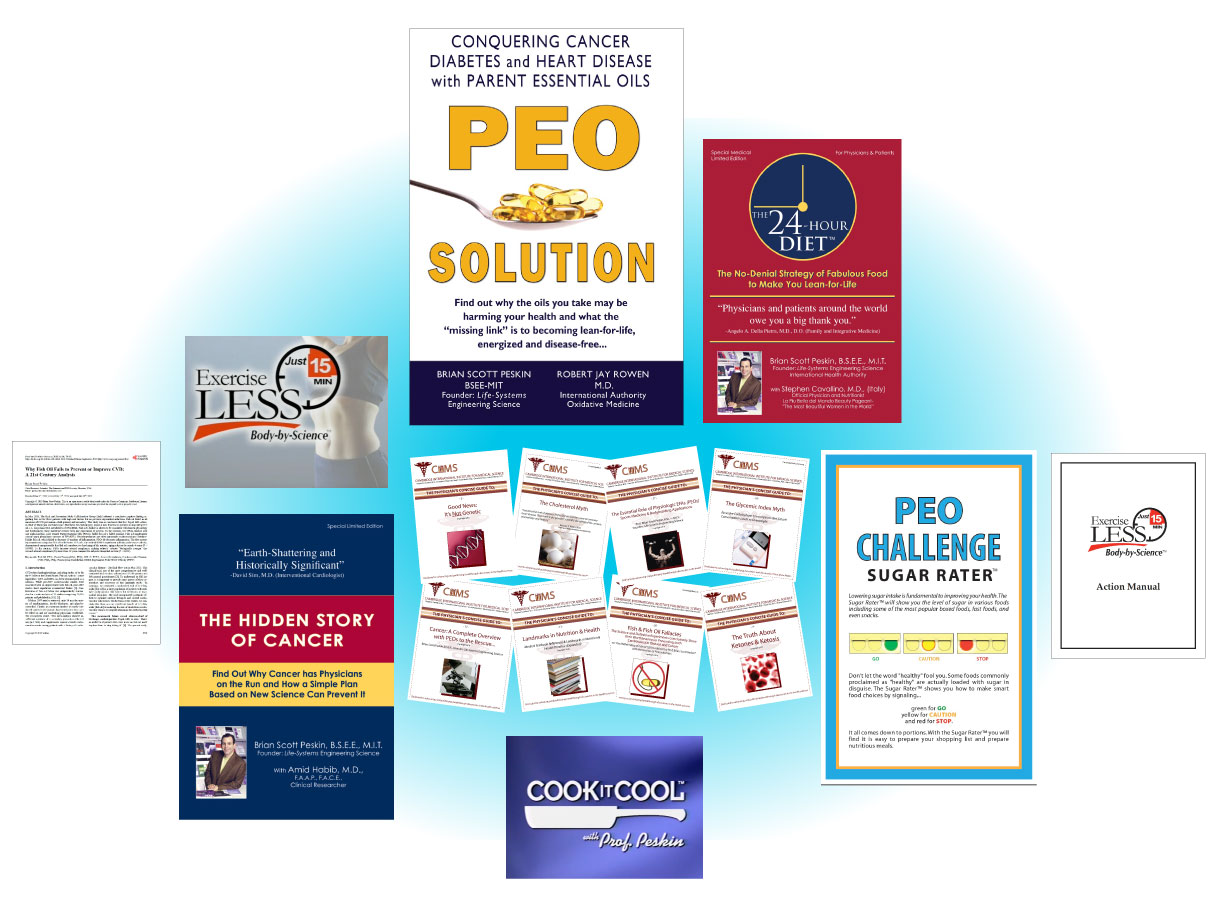 Transform Your Life with Healthy Body With Science™
The Healthy Body With Science™ program is THE WORLD'S MOST comprehensive and science-backed approach to achieving optimal health. Developed by Prof. Brian Peskin, the world's leading specialist in cellular health (See physician accolades), this exclusive program offers a wealth of knowledge (much of it hidden and underpublicized). You won't find this information anywhere else: 3 landmark books, 20+ Special Reports, 2 highly informative videos, and the Audio that started it all, UNLEASHED. Healthy Body With Science™ provides expert guidance, ensuring that every step is grounded in scientific research. Brian makes it easy to achieve Radiant Health.
Parent Essential Oils (PEOs) Support
Patients appreciate these important benefits.
Less cravings for sweets and greater appetite fulfillment
Decreased stress levels
Healthier, smoother skin and decreased cellulite
Stronger, smoother fingernails
More luxurious, faster-growing hair
Fewer and less severe headaches
Increased hormonal efficiency and production
Increased athletic endurance and faster recovery
Faster healing (from surgery and other procedures)
Less pain, maximum anti-inflammation ability (from painful procedures)
Plant Seed Oils Are Misunderstood
There is a lot about plant-seed oils in the news. It is mostly WRONG and very misleading…..You will be firmly on the road to ILL-HEALTH if you listen to them! Read what the world-class physicians below have to say about my EFA-based recommendations. Parent omega-6 (LA) is the most used and needed EFA in your body. Discover the truth….
What Experts Say About Prof. Peskin's Amazing Medical Insights
"This information could prove to be one of the most significant health discoveries of the 21st century. It is extraordinary. Finally, an effective and practical program of cancer prevention. Brian Peskin has put together a program that must be called 'brilliant.' It is a must … for all."
—Stephen C., M.D.  Emergency Physician, Reggio Emilia, Italy
"Physicians and their patients around the world owe you a big 'thank you.' As a family and integrative physician, I carefully read your book and articles paying close attention to your references. I am an enthusiastic supporter of your program. Dr. Atkins' first book started me on this path, and you provide the missing information—the missing links and scientific support—that eluded Dr. Atkins. I am strongly recommending this book to all my patients."
—Angelo A. Della P., M.D., D.O., Family and Integrative Medicine
" Impeccable research and novel insights of sheer genius. Brian's accomplishment is singular―no groups, no public money, only elegant science showing how proper use of EFAs is the 'missing link' for practical application of Otto Warburg's discovery. This knowledge is priceless for your future health."
—Brian V., M.D. Board certified: Internist, Cardiologist, and Radiologist
Save